Complete concept, text, descriptions and photos are the intellectual property of, and with copyright ©2009-2022 by, LH Davis. All rights reserved and enforced!

"TRUTENNA" ©™
(THE "TRUTH" ANTENNA)©™
The Ultimate Digital TV Antenna
(NOTICE: You will NOT find info on this specific design and method ANYWHERE ELSE ... on the Internet or otherwise!)


NOTICE TO ALL CONCERNED TO BE READ IN ENTIRETY! -

THIS LISTING IS FOR AN eBook CONTAINING ORIGINAL INFORMATION BY THE AUTHOR EXCLUSIVELY REPRESENTED HERE.




NOTE FURTHER THAT THIS MATERIAL IS THE EXCLUSIVE PROPERTY OF THE AUTHOR AND IS NOT FOR RESALE OR REDISTRIBUTION IN ANY MANNER OR FORM!


We are offering this eBook material here BY EMAIL DELIVERY OF PDF FILE AND ALSO A LINK TO A PRIVATE, DOWNLOADABLE/PRINTABLE WEB PAGE (FOR ADDED INSURANCE THAT YOU ACCESS THE MATERIAL).

When you order with the PayPal BUY NOW Button below, you will recieve the links and attachment by email sent to your PayPal registered email address within 24 hours of purchase, usually much sooner.

The price for the "digital delivery" version of this eBook which you may view on your digital devices or print out as you choose ... is just $9.95!

IT IS SIMPLE TO ORDER HERE THROUGH PAYPAL FOR THE LOW PRICE OF JUST $9.95
You may securely use your credit card and you do NOT have to have a PayPal account! -



PayPal - The safer, easier way to pay online!




If you would prefer to order a CDROM version of this material on ebay ...
PLEASE CLICK HERE FOR OUR EBAY LISTINGS








IMPORTANT NEW "PREFACE TO THE PREFACE" ABOUT ANTENNAS!
(New preface prompted by several inquiror questions September 2011)

The average layman knows very little about just what an antenna does just as he/she does not know how to distinguish much of the hype surrounding digital versus analog transmission/reception. And, you really can not expect them to . Unfortunately, if YOU are one of these laymen, you really NEED to KNOW a few basics so that you do not waste your time and money and are NOT gullible when it comes to choosing a TV antenna for today's state of the art (as hard as it is for some of us "old timers" to believe, many of today's generation even think that a TV antenna for over the air reception is a "NEW" thing - as do some promoters, apparently!).

Without getting too technical here, let me clarify what I have come to see as a few common misconceptions about antenna performance right at the outset since many people, based on their questions, simply do NOT know, or understand, any of this information!

First and foremost, an antenna does NOT directly affect DIGITAL picture or sound quality! Any reviews, or ads, you see about a certain antenna receiving an "exceptionally clear" picture, or sound, are absolutely meaningless in this, the digital age!

Assuming an antenna can detect a usable digital signal, then rest ASSURED that it has done its ONLY job. The "clear picture" with digital transmission comes from the medium itself and is determined by that and the processing/display in the receiver ... period! Unlike the old days of noisy analog with its variations and graduations in reception display which WERE directly affected by the antenna, a digital signal is either there or it is not. When it is not you see NOTHING. When it IS there, you ALWAYS see "picture perfect" digital displays and hear digital audio just as you do on your computer ... there is no in-between "grey area" with digital! Remember this fact, please, as you read meaningless advertising claims about an antenna's "picture quality" etc. Most people who use one of these antennas to experience HDTV over the air for the first time are actually being "knocked out" by the current state-of-the-art (that we talk about below) which is what they are actually raving about in their reviews - NOT the antenna itself that simply detects the signal!

Secondly, there are a LOT of, what I call, "gimmick" antennas out there nowadays claiming "space age", or "new cutting edge", or similar miraculous performance! You often see this in regard to some newly marketed, flat, so-called "omnidirectional" indoor antenna. Remember, these truly are just variations of the same old, basic UHF "loop" or, perhaps at best, one of the newer fractal design variations. But, just remember they have still NOT repealed the old laws of physics and they will ALWAYS apply regarding wavelength and antenna gain.

Do not expect ANY kind of indoor antenna to work consistently well beyond 30 miles or so from a transmitter (typically much closer distance is required). Some of these new indoor designs are fine for those living in metro areas and will, indeed, receive all of the many stations now out there in these markets. But, so will old "rabbit ears" (a basic dipole) and an amplifier. However, if you live in the fringe, or want a chance at receiving distant stations, and especially the lower VHF channels, do yourself a favor and forget about all the gimmicks! In that case, you need a REAL, properly designed for gain and wavelength, outdoor antenna for consistent performance. Of course, our "TruTenna" design will still work better in an attic mount situation than any other "indoor" antenna simply because it is designed to optimize all the real reception parameters that matter. It will work even better when mounted high, outdoors, as will ALL antennas.

It is human nature to want to believe in some "new", "miracle" technology and that a cheap, or sometimes expensive, easy, "cool looking" or "hidden" type antenna will do the job miraculously. The TRUTH is ... when it comes to antennas, there is not much new under the sun and there are NO miracle designs. Radio Frequency (which is how TV signal waves are delivered) is still transmitted and received the same way it has always been and the same laws of physics apply today just as they did in 1950!







ORIGINAL PREFACE -



Most everyone has, by now, experienced "High Definition" television in some form or other. But, what many people STILL do not seem to realize, is the fact that broadcast television, so-called "OTA" (for "over the air") has the greatest potential for ULTIMATE "High Definition". All of the digital "HD" transmissions are NOT equal and "OTA" broadcasts, assuming faithful signal maintenance by the transmitting station, noticeably exceeds the inherent limitations and capabilities of both satellite and cable!

I believe that broadcasters are, by and large, missing the boat by not emphasizing this fact in constant on-air promotion. This kind of informative promotion is not happening, at least in my locality. When the digital transition occurred, they told you a lot about the cheap, government sponsored "converter" boxes, and coupons for them, but they should have been mentioning antenna quality and discussing the excellent inherent quality of the new ALL-DIGITAL TV receivers. I suppose they are afraid of offending their cable carrier affiliates.

Anyway, the point here is, if you have not seen high definition programming received over the air on a quality, all-digital TV from a quality network and affiliate station, then you have not yet experienced true HDTV (your local PBS HD channel should be a very good example of the current state-of-the-art)!

This fact, along with the new and varied programming that is, and will be increasingly, offered by TV stations on their multiple sub channels, is why antenna based reception systems are, and will continue to be, making a huge comeback in the months and years ahead! Once again it will be "fashionable" to sport a TV antenna on your roof!

This listing is about HOW TO MAKE YOUR OWN high quality bi-directional antenna that will provide you with SECOND TO NONE fringe reception of all the new, highest quality programming that is, and will be, available to you ...
FREE ... "OVER THE AIR"!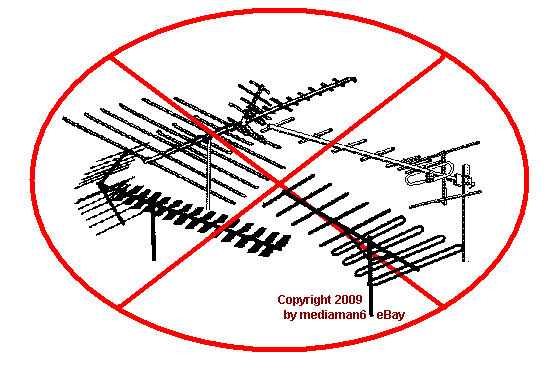 Forget about all of these and their relatives!
You can buy a lot of so-called "HDTV digital antennas", typically mass-produced in China, Taiwan, or Mexico at various prices depending on the particular unit and the source. You are probably looking at a list of some of these now if you did an eBay search to get here. Or, alternately, you can spend just a few bucks for our information on how to build yourself the "ultimate" rooftop antenna for today's digital broadcasts. This new spin on an older, basic design was developed through months of experimentation and "fine-tuning" for optimum bi-directional performance WITHOUT using a rotor!

Just like our "TRUTH" amplifier, the "TRUTH ANTENNA" or "TruTenna" was named for the faithful way it performs in bringing in signals in fringe areas where other, traditionally designed, high priced antennas just don't work!



TESTIMONIALS
We have received some nice feedback from eBay buyers ...
So, I thought it might be beneficial to bring just a few of their comments up front here in the description ...
so that you can see at a glance what some other buyers have to say about our eBook offered here!

First, here is a very enthusiastic, email from a recent eBay buyer -

"Dear mediaman6,
I am personally taking the time to write and  tell you THANK YOU.....
What you are selling here is GOLD!  I myself was not a believer when I first read your instructions,
I was like, please, this ain't going nowhere.  I had tried so many antennas, and spent so much money, 
and never got any channels because of where I live. Glancing over this antenna info at first made me laugh and think just another waste  of money. 
But, I took the time, followed every detail to exact measurements, and I built it. 
I installed it today and you know what? .... I WENT CRAZY! I CAUGHT SO MANY HDTV CHANNELS THAT I COULDN'T STOP LOOKING AT THE RESULTS OF THIS ANTENNA! 
My friend I TRULY THANK YOU for making me a happy person and may God bless you for sharing this information  .. once again Thank you! 
If others can claim their antennas have 150 miles range, then your TruTenna must have a 500 mile range LOL !.....Thank you again!"
(eBay user name)- dreadcruzian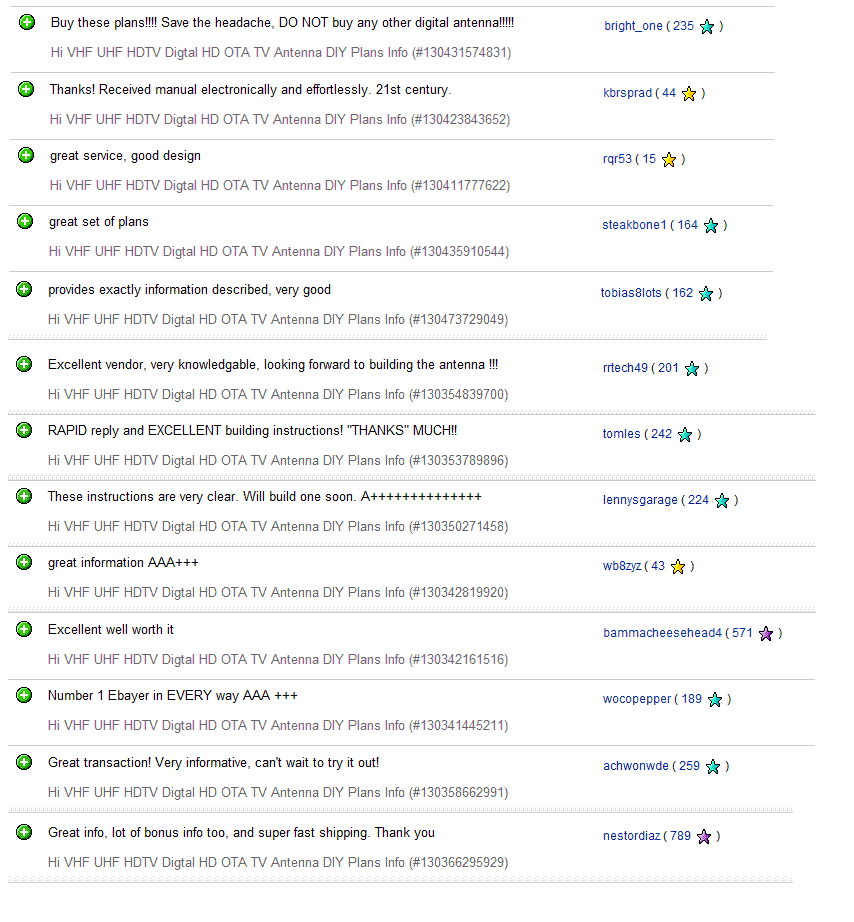 The designer developed this antenna design, after many trial and error experimental attempts with various designs, for FRINGE reception under less than ideal conditions. This antenna, along with the "TRUTH" preamplifier described in our other listings, has proved to be a remarkable combination, consistently pulling in digital broadcast transmissions from stations in markets as far as 70 miles away and even regularly picks up one station from a little over 90 miles distant! Furthermore, believe it or not, the rooftop antenna location for this reception performance is "down in a hole" (very low-lying creekbed far below average terrain surrounded by wooded, granite embedded, hillsides)!

It was developed out of personal frustration after he had tried many other antenna/amplifier combinations out there on the market, yes the well known, heavily endorsed brand names as well, with unsatisfactory results. So, we know from this extensive, past experience that this antenna design will deliver the signal level needed for digital lock when others won't!
(We used two of our "TruTennas" to replace two Channel Master 4228 8-bay arrays for superior results!)

Keep in mind, no matter where you are in relation to the broadcast stations, you always need a good antenna and the best location for it possible. But, when you REALLY need a little more from your antenna, especially in high mileage "fringe" areas,to make the final difference with a signal being captured or not, then you REALLY do, TRUTHFULLY, need our "TRUTH" antenna (and, possibly, our "TRUTH" amplifier as well- see other listings)!

If you are like many of us located 50 to 70 or more miles away from transmitters, then you definitely need a good, properly mounted antenna AND a good amplifier to enjoy consistent, dependable day and night digital broadcast reception.


From what we read, we see a lot of people are telling you that there is NO DIFFERENCE in HDTV transmissions from regular "old fashioned" transmissions and that devices labeled "HDTV" or "DTV" are usually just hype. Well, this may be true to some extent but not entirely. For example, of course there is definitely NO difference in the kind of antenna employed for one signal type or another. Any antenna well designed to receive the old ANALOG transmissions will certainly work just as well for digital.

But, there really IS a problem with some of the traditional antennas for today's NEW CHANNEL ALLOCATIONS and the area of the broadcast band for which they are "peaked". Today's UHF band, which ends at channel 69, peaks at much lower frequencies and requires an antenna design that takes this into consideration for maximum performance, especially for the upper VHF channels. While there are one or two major companies just now starting to admit this, and market new designs for it, most antennas sold during the digital transition period were old UHF designs optimized for traditional UHF reception only!

Perhaps you were one of those who purchased an "HDTV" antenna for the new medium only to be vastly disappointed when you lost channels after the transition!

If so, you do NOT have to buy a another new, expensive antenna. You can build a high performance version yourself for around $25.00 from simple materials readily available locally. Furthermore, you can typically do it in just one afternoon! While we recommend an outside mast mount, it could be mounted in an attic or even on an inside wall nearest the transmitting stations (it is a "flat" design measuring approximately 30" height x 20" width that could be fabricated to hung behind a curtain, mirrow or picture frame).

I worked with the designer, old friend O.T. Hudson, a retired broadcast engineer, to put together a photo illustrated "eBook" article, which opens and reads on your computer exactly like a web page, that shows you, step by step, how to build this remarkable BI-DIRECTIONAL antenna (and also explains how to make it directional if you prefer).

NO, THIS IS NOT "SNAKE-OIL" OR SOME KIND OF SCAM PROCLAIMING A NEW "MIRACLE" DESIGN OR TECHNIQUE. WE DID NOT ATTEMPT TO "RE-INVENT THE WHEEL!" INSTEAD, WE STARTED WITH AN OLD, PROVEN BUT OFTEN OVERLOOKED, ANTENNA DESIGN AND SIMPLY RE-STRUCTURED IT IN A UNIQUE, AND MORE EFFICIENT, MANNER WHILE OPTIMIZING IT FOR TODAY"S BANDWIDTH.

And, IMPORTANTLY, we also discovered some UNIQUE fabrication materials, and methods, to both simplify construction and maximize performance! Furthermore, these methods REDUCE COSTS while SAVING TIME ...
a THREE fold improvement over-all!




THIS DESIGN WILL GIVE YOU BROADBEAM RECEPTION FROM THE FRONT AND REAR
MAKING IT "MULTI-DIRECTIONAL" OR ...
YOU CAN BUILD IT WITH A REFLECTOR FOR EXTRA FORWARD GAIN AND DIRECTIONAL PERFORMANCE.

THIS IS THE IDEAL ANTENNA FOR BI-DIRECTIONAL LOCATIONS
WITH TV MARKETS IN OPPOSITE DIRECTIONS.

YOU CAN ENJOY MAXIMUM GAIN FROM BOTH DIRECTIONS
FROM ONE ANTENNA WITH NO ROTOR NECESSARY!



PLEASE NOTE - WHILE THIS ANTENNA CAN BE OPTIMIZED (PEAKED) FOR THE CHANNELS IN YOUR OWN AREA, AND WORKS GREAT WITH UPPER VHF DOWN TO CHANNEL 7, IT WILL NOT WORK AS EFFECTIVELY FOR THE LOWER VHF CHANNELS BELOW CHANNEL 7!

The exact design demonstrated, unmodified, receives all available, actual channels 6 - 53 at our location!
(It even receives low vhf channel 3 from 90 plus miles away occasionally but not very reliably.)

The closest market to us is 40 miles away, the average market/station distance around 60 miles ...
and the farthest is over 90 miles!
2011 Addendum

We recently built and installed several of these for friends located in much higher terrain ...
Each of them receive most ALL of the available stations from five surrounding markets consistently!

One of the locations, high on a hill, CONSISTENTLY receives every single available station from all these markets, from all directions, one of them 90 miles distant, WITHOUT an amplifier or rotor!

These antennas can really be amazing!







For those who STILL may have missed the point ... (and believe it or not some will !)
This listing is for INFORMATION on how to build your own TV antenna.
It is NOT for a ready- made antenna!


This is a well written, EXTENSIVE article, produced in eBook fashion.
It includes both a standard downloadable web page format html file with graphics folder as well as a pdf file version.




This is NOT just a "quick & dirty" info piece like some "how to" listings you may have seen elsewhere. This is, instead, a DETAILED, article honestly presented to give you all the knowledge and background information you need to, not only build a superior TV antenna for the digital age, but also to understand the "how's and why's" of the design principles so that you can comfortably modify it to suit your own specific needs if desired! It is a complete, written "seminar" in homebrew antenna design by a knowledgeable, industry veteran who is genuinely motivated by the desire to share this information with others. Obviously, being a retired technician trying to survive today's economy, he would like to make a buck or two for sharing his knowledge as well ...

(O.T. reminds you that any proceeds go to his favorite charity ... HIMSELF!) ;-)

CONSIDERING ALL THE RESEARCH AND FOLLOW-UP EFFORT THAT WENT INTO THIS PRESENTATION, AND THE RESULTS YOU CAN ACHIEVE WITH IT, THE PRICE REALLY IS A "GIVEAWAY" !
(FOR ALL PRACTICAL PURPOSES IT ACTUALLY IS A "GIVE AWAY" AFTER PAYPAL AND HOSTING FEES ARE DEDUCTED !

Part of the reason that O.T. continues to offer this eBook for very little profit
is to help call attention to his complementary digital signal amplifier listed elsewhere ...

If you would like to learn about the "TRUTH" amplifier as well ...

Please see ...
The TRUTH HDTV Digital Signal Amplifier
(Click Here)






Perhaps the best way to introduce you to the writing style and the "tone" of our photo-essay is to just present the ACTUAL PREFACE, itself. The following is the is exact opening of the eBook you will receive ...

THE "TRUTH" ANTENNA
BY
O.T. Hudson
Copyright ©2009 with ALL RIGHTS RESERVED by Author
All forms of duplication and redistribution by any means are prohibited, and enforced, by Federal law!




For the past several years, I have set out to improve TV reception at my extremely poor receiving location. I say extremely poor in the sense that I live in a "hole", so to speak, far below average terrain and surrounded by woods with tall, heavy tree growth as well as a large, granite embedded, hillside behind me to the east.

Although there is not that much to watch on television nowadays, programming wise, there are a few area broadcast stations within my reception "possibilities", if not "probabilities" that offered worthwhile independent programming for my tastes. Since others in the area, better located, could receive them, I was determined to come up with a setup to do so as well ... no matter what! After all, I was an "old" retired, broadcast engineer (albeit radio and NOT TV!) who had also been a professional AV systems installer for years so I should be able to do it if anyone could!

Well, it has taken some doing ... a LOT of research and development along the way. But I have done it! I have FINALLY, after many "near misses", accomplished what I set out to do ... develop the "perfect" digital age receiving antenna for my fringe location.

Besides, probably like many of you reading this, I have become intrigued with the process itself of designing something that will "pull in" the hard to get stations (whether I watch them or not!). I am also inspired by the quality potential of broadcast (over the air) digital that no other compressed medium can offer, not even satellite and certainly not cable. If you have seen an ALL DIGITAL (with no analog conversion in between) state-of-the-art over the air broadcast in High Definition, then you know what I mean. It is especially gratifying to watch that occasional, meaningful sports event in over the air broadcast HD.


Well, as for the antenna part of my setup as it now exists, this "TRUTH" antenna for which you purchased this information to learn all about ... I am so "sold" on this design and so inspired by its resulting performance, that I would like to tell you some background as to WHY I think it works as well as it does and the reasoning behind its design. I know some of you would rather just skip to the "quick setup" part of the presentation but I think it is worthwhile to share some info about ...some TRUTH about ... TV antenna types and performance, so that you will better appreciate what you are about to adapt for yourself. And, it will also provide you with the proper knowledge foundation for troubleshooting and correction if, for some reason, your first effort does not quite perform as it should.

This antenna, which I call the "TRUTH" antenna, and how it came to be, and how you can make one of your own in one afternoon for around $25.00 or so, is what I am pleased to share with you herewith. As you can see, it appears VERY simple in final form, and it is very simple to construct as advertised. Yet, it is NOT all that simple in concept and development as you will learn as you read further.


Here is a photo of the finished antenna just prior to mounting in a tripod on my roof (overall about 35' above ground) ...

( END OF EXCERPT )



Hopefully, that introduction will serve to acquaint you with the straightforward writing style
that continues on to present specific details, as well as background information,
throughout the presentation interspersed among 21 photographs and graphics.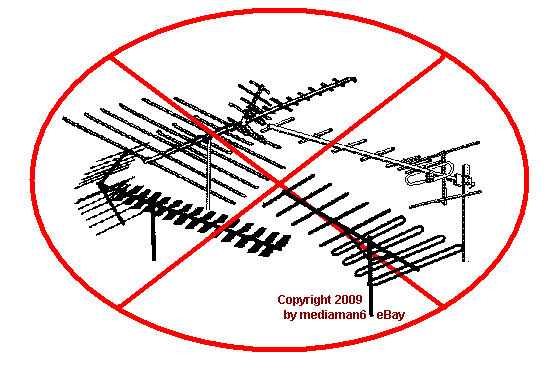 Forget about all of these and their relatives!
Thank you for your consideration!
We are offering this eBook material here BY EMAIL DELIVERY OF PDF FILE AND ALSO A LINK TO A PRIVATE, DOWNLOADABLE/PRINTABLE WEB PAGE (FOR ADDED INSURANCE THAT YOU ACCESS THE MATERIAL).

When you order with the PayPal BUY NOW Button below, you will recieve the links and attachment by email sent to your PayPal registered email address within 24 hours of purchase, usually much sooner.

The price for the "digital delivery" version of this eBook which you may view on your digital devices or print out as you choose ... is just $9.95!

IT IS SIMPLE TO ORDER HERE THROUGH PAYPAL FOR THE LOW PRICE OF JUST $9.95
You may securely use your credit card and you do NOT have to have a PayPal account! -



PayPal - The safer, easier way to pay online!




If you would prefer to order a CDROM version of this material on ebay ...
PLEASE CLICK HERE FOR OUR EBAY LISTINGS






Complete concept, text, descriptions and photos copyright ©2009 - 2022 by LH Davis. All rights reserved and enforced!